If you're like most employees, there's no better way to relieve the tedium of the workday than surfing the web when the boss isn't looking. But as many a fired worker can attest, surfing on the job can be a dangerous habit indeed.


That's why Don's Boss Page has created the Personal Protector. It's a handy little invention that lets you surf the web with a panic button always by your side. Check out the diagram below for more information on how your Personal Protector helps you surf the web in safety!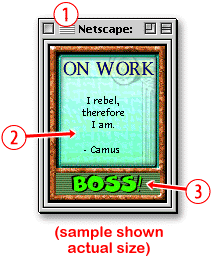 WARNING -- Use at your own risk!
By launching the Protector, you affirm your understanding that Don's Boss Page offers no warranties or guarantees on its use and cannot be held responsible should the Protector fail to adequately protect your job, or for any other circumstances that may arise from its use.


When you click on the "LAUNCH MY PROTECTOR" button at the top of any page in this site, your web browser will automatically open a new window as pictured. Keep on surfing the web as you always would -- your Personal Protector will float alongside your regular browser window, only a quick click away!


Don's Boss Channel brings you the best in at-work news and humor. Features include evil boss stories, workplace surfing updates, and hand-picked quotes and wit to help you get through your day. Requires Netscape 3.0 / Internet Explorer 4.0 or higher.



Boss snooping again? Click this button to launch the fake spreadsheet screen found on Don's Boss Page. Your Personal Protector window will also automatically close itself to cover your tracks. (Note -- you may need to double-click the Panic Button for best results -- be sure to practice before an emergency arises!)